Tresse Rx Healthy Hair Program
Unfortunately for many women, there is more than one factor causing their hair loss.  While the majority of women are experiencing androgenic alopecia, also known as Female Pattern Hair Loss, factors such as hormonal imbalance, dietary deficiencies, stress, gut health, or scalp health are also contributing to the poor health of their hair.
Maintaining healthy hair and scalp requires addressing concerns from within as well as topically and the Tresse Rx Healthy Hair Plan was created to promote the best, most efficacious environment to maintain follicle cycle and growth.
---
Tresse Rx Inside Plan
The Inside Plan consists of a three-part ingestible program that starts as a 6-week program and was formulated to address total body inflammation through gut health and the nutritional factors that may play a role in hair growth and shedding.
Tresse Prebiotic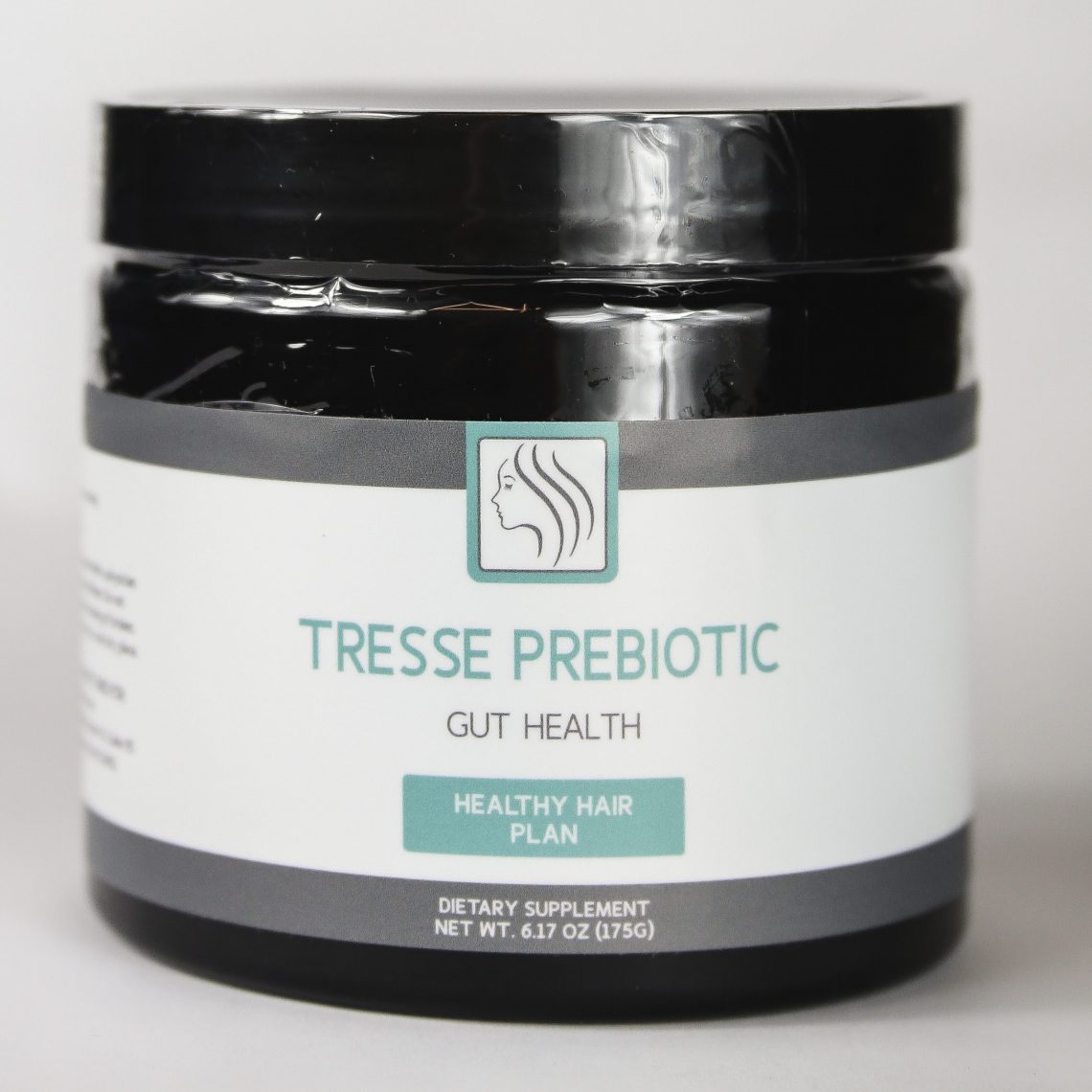 A prebiotic supplement in a powdered form containing anti-inflammatory properties to soothe and address gut health-related issues that may contribute to hair thinning and hair loss.
Key Ingredients
Benefits
L-Glutamine

Shown to block bacterial infiltration during digestion
Helps to boost immunity and prevent infection and inflammation
Soothing to gut

Licorice

Plant based ingredient with "adaptogenic" properties, which help to improve the body's ability to accommodate physical and emotional stressors that may play a vital role in gut health in some individuals
Known anti-inflammatory, calming to scalp tissue

Turmeric

Anti-inflammatory
Reducing inflammation may help to ameliorate the causes of hair loss and encourage growth
Inhibits the 5-AR enzyme known to play a part in androgenetic alopecia
Adaptogenic properties may help the body heal and recover more quickly from conditions that may negatively affect hair follicles and scalp tissue

Spirulina

Mineral dense blue-green algae superfood o Powerful anti-inflammatory, anti-bacterial properties within the gut
Aids in healthy digestion
Rich in chlorophyll, so it's great for retaining and restoring good digestion
Encourages and supports the growth of healthy bacteria in your stomach, thus helping to keep candida overgrowth under control
Boosts the absorption of vital minerals
Supplies the nutrients needed to cleanse and replenish total body health

Aloe Vera

Prebiotic
Healing, soothing to gut
Anti-inflammatory

Beta-Glucan

Recognized as an important modulator in assisting a healthy gut
Powerful immunity booster
Anti-inflammatory

Piperine

Aids digestion
Enhances absorption of a variety of nutrients and anti-oxidants
Promotes a healthy GI system
Tresse Fortifier
A follicle enrichment supplement formulated with our proprietary blend of botanicals, adaptogens, marine collagen, and Saw Palmetto, known to support hair growth and help to block the conversion of testosterone to DHT, which is involved with the shrinking process of hair follicles.
Key Ingredients
Benefits
Saw Palmetto

Improves hair growth by blocking 5- alpha-reductase, an enzyme that converts testosterone to DHT, the molecule responsible for hair loss in androgenetic alopecia (pattern hair loss)

Ashwagandha Root

Improves scalp circulation, strengthens the hair, and may help to heal conditions like dandruff, psoriasis, and eczema on the scalp
Anti-greying properties
Adaptogenic properties supports the body's ability to accommodate to varying physical and emotional stresses

Resveratrol

Provides protection against injury or bacterial, fungi, ultraviolet damage
Powerful anti-inflammatory
Helps to Increase the lifespan of the follicle and promote healthy scalp tissue
Increases blood flow to the follicle, thus supporting healthy hair growth
Adaptogenic properties supports the body's ability to accommodate to varying physical and emotional stresses
Tresse Revitalizer
A premier blend of complexed super Vitamin B and biotin in supplement form. Vitamin B Complex and biotin are known as ingredients necessary to promote conditions to support healthy hair.
Key Ingredients
Benefits
Complexed Vitamin B with "Quatrofolic" Folate and Biotin

High potency, biologically active form of dietary components in the form of B complex vitamins
Provides important adrenal support for better systemic stress management
Provides hormone support which is imperative for healthy hair, skin and nails
Contributes to the support of a longer hair cycle which means less falling hair (Biotin deficiencies are a known cause of hair thinning and hair loss)
The Topical Healthy Hair Plan utilizes the application of growth factors that not only treat the cells around the follicle, but balance the scalp micro-biodome, while enhancing the environment for healthy hair growth.
Tresse 3X Growth Factor Serum
The unique follicle boosting scalp serum Tresse 3X and micro-channel applicator for at home use is a protein rich serum blended with Vitamin B and beneficial plant extracts designed to condition the scalp to allow optimal hair growth.
Key Ingredients
Benefit
Growth Factors (EGF, FGF, KGF)

Growth factors are signaling proteins produced by human cells, which regulate the biological activities responsible for the hair's growth cycle.
These signaling proteins play a role in migrating stem cells to areas in need of cell proliferation.
Production of growth factors in the skin slows down as we age and the reduction is exacerbated by environmental and photo damage

Biotinoyl Tripeptide-1

B vitamins bonded to amino acid peptides are believed to ensure root health and reduce thinning
Tresse Root Cleanse
Specially formulated protein rich, plant-based cleanser for use in combination with the Tresse 3X. It is designed to cleanse the scalp, purify the follicles with essential oils, and to stimulate and prepare the area for at-home scalp treatments.
Key Ingredients
Benefits
Human Fibroblast Conditioned
Media

Creates the most protein rich environment for ideal nourishment for the scalp and hair growth.
Our media ingredient contains diverse growth factors, many of which are important to signaling for hair growth

Rosemary and Peppermint Oil 
Ginger
Ginseng

Stimulatory for micro circulation to promote hair

Aloe

Soothing, moisturizing and microbiome balancing
These statements has not been evaluated by the Food and Drug Administration. These products are not intended to diagnose, treat, cure, or prevent any disease.